So if you didn't see yesterday's post, on Sunday we spent the day at Pleasant Valley Pumpkin Patch. It was very short on pumpkins (they had maybe a dozen left) but BIG on entertainment for the younger crowd.
I'm pretty sure Mason's favorite feature was the big race track for under 5. They had everything from Little Tykes cars to scooters and small bikes with training wheels that kids could ride on. Unfortunately, Mason has only gotten the hang of going BACKWARDS in any Flinstone powered ride, so I spent a lot of time pushing him out of the track and out of the path of much faster moving 4 year olds. He was perfectly content to sit on his tractor trike and watch the other kids go by, which caused a few traffic jams!
And then there was the tractor. Mason loved the tractor and wanted to sit on it all day.

I got sick of the tractor much sooner than he did, so this is how we spent the next twenty minutes or so….

I finally got him to go play in the corn maze.

We wrapped up the day with some swinging and headed home.

We're DEFINITELY heading back to this place next year!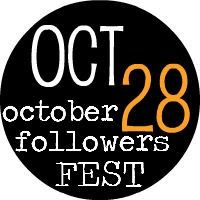 This time last year – Angry with Daycare